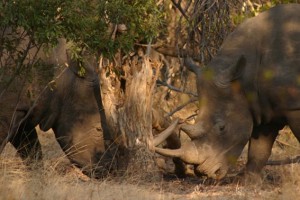 – Livingstone Safaris Ltd –
Livingstone Safaris Ltd was established in 1996 and has specialized in Walking Safaris since permits were first granted in 2002. We are a small family run Safari Operation and we pride ourselves on our personal approach to all our clients.
– Professional guides –
Our Guides have National Parks Professional Tour Guides Licences and have years of experience conducting Walking Safaris in the Mosi-O-Tunya National park. They have wide ranging knowledge, not only of the large variety of mammals but also the prolific bird and insect life.
There will be periods during the Walk when there is little large game to be seen, and at such times the you will learn about the Flora and Fauna of the Park, and the Guide will explain which plants have medicinal properties and how they play a role in the every day life of the local people. They will also point out the Spoor of various animals.
– Insurance –
1 ) The Clients and Guide are covered by MEDTOUR whilst in the Park, provided by Special Emergency Services (SES)
2 ) The Company has Public Liability Insurance issued by Zambia State Insurance.
3 ) The Vehicles have Fully Comprehensive Insurance with extra Passenger Liability Cover
– Transfer vehicles –
Livingstone Safaris have 4 custom built, 10 seat open Safari Vehicles, which are used as transfer vehicles as well as driving in the National Park. They are regularly maintained to a high standard and are checked daily. We use a maximum of 3 vehicles at any one time, which always leaves at least one vehicle on standby should it be needed. All the vehicles are 4 x 4 so we have no problems reaching even the most remote areas of the Park, if necessary.
We have 1 dedicated Driver, 2 dedicated Guides and 2 Driver-Guides who can work alone if necessary. The Drivers have Public Service Vehicle (PSV) driving licences.